LottoCal
You're gonna be rich!
LottoCal presents state lottery results for up to five days in advance† for your desired locations, as all-day events in iCal. You'll always know the winning lottery numbers well ahead of time!
How does it work?
Once installed, LottoCal appears in your System Preferences. Add your favorite US cities to LottoCal's list of locations! Use a city name, or ZIP code: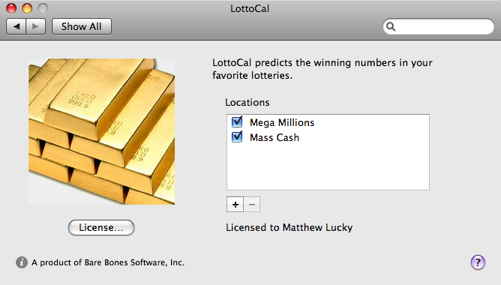 LottoCal creates a unique calendar in iCal for each location. Each calendar has five days† of lottery data: today's, and the following four days:

For each day, you can get detailed information, and a link to the PowerBall® or other state lottery results page for that day, just by double-clicking on the event: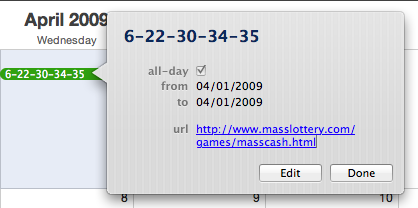 Have an iPhone? Lucky you!
If you have an iPhone or iPod touch, just sync your calendars with the computer running iTunes…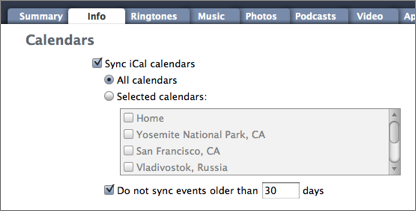 …and now the winning lottery numbers are in your pocket calendar, too!
How much does LottoCal cost?
A LottoCal license costs US$10. (Ten dollars.) You must also agree to pay Bare Bones Software, Inc. 25% (twenty-five percent) of your post-tax lottery winnings. Everyone wins. Woohoo!
How do I get LottoCal?
To purchase new or additional copies of LottoCal, visit our web store. LottoCal is only available as an electronic download.
LottoCal System Requirements
Mac OS X 10.5 or later
Universal application (for both Intel and PowerPC-based Macs)
† USA state lotteries only. Accuracy not guaranteed.