Yojimbo for iPad
Yes, you can take it with you…

Take your Mac's Yojimbo data with you, anywhere, right on your iPad.
Yojimbo for iPad is a companion app that syncs effortlessly over WiFi with Yojimbo 4 for macOS (required; sold separately), letting you take all of your Yojimbo data anywhere. Yojimbo for iPad even handles your encrypted entries.
Imagine catching up on articles, reviewing shopping lists, traveling with digital confirmation documents, and having all your passwords and receipts safely at hand, no matter where you are, whether or not you have network access.
If you use Yojimbo on your Mac, you'll want Yojimbo for iPad.
---
Effortless Sync
The first time you use Yojimbo for iPad, you'll "pair" it with your desktop Yojimbo. Then, it collects all of your Yojimbo items from your Mac, using the iPad's built-in WiFi networking.
Thereafter, whenever you start Yojimbo on your iPad, it will pick up the latest changes from your Mac (as long as your iPad and your Mac are on the same network).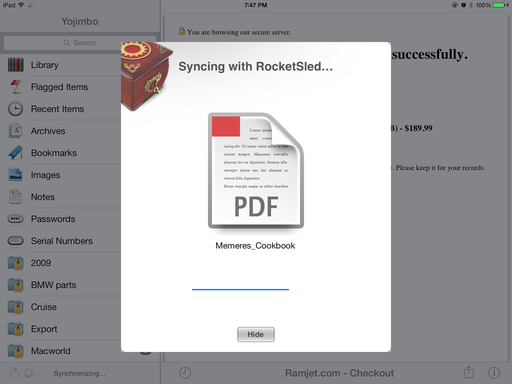 Full Display
Yojimbo on the iPad searches and displays all of the same types of data that Yojimbo supports on the Mac: images, PDFs, web archives, notes, bookmarks, serial numbers, and passwords.
Note: Yojimbo for iPad does not support editing or creating items; all entries on the device are read-only.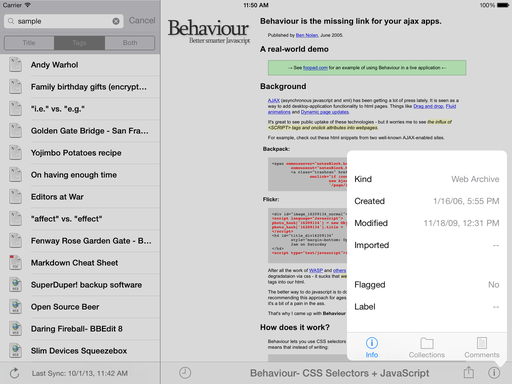 Searching, too!
Yojimbo on the iPad provides quick access to your stored items: you can search item titles, tags, or all properties of an object: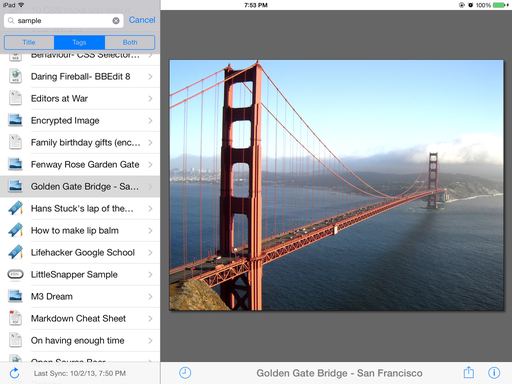 Share the Wealth
You can share basic item types (images, PDFs, web archives, and bookmarks) with other apps on your iPad, using the handy Share menu: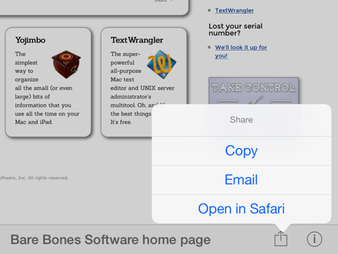 Some item types, such as Bookmarks and Web Archives, may be opened in Safari; most can be sent as attachments using Mail. You can copy text from Note, Password, and Serial Number items as desired.
---
Pricing & System Requirements
Yojimbo for the iPad is US$2.99 in the App Store. You must also have either Yojimbo 4.0, or Yojimbo 3.0.4 for macOS, and, of course, you need an iPad. (If you're using an older version of Yojimbo, please see here for upgrade information),