TextWrangler is now BBEdit. It's time to switch.
TextWrangler was an all-purpose text and code editor for macOS, based on the same award-winning technology and user interface as BBEdit, our leading professional HTML and text editor.
TextWrangler is now part of BBEdit. We have sunsetted TextWrangler, and we encourage anyone not already using TextWrangler to download and use BBEdit instead.
You'll feel right at home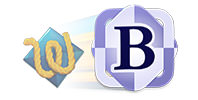 If you are an existing TextWrangler customer, it's time to switch to BBEdit. We promise that you will feel right at home, because the two products are identical in every way that you're used to. And you still don't have to pay anything, unless you want to support us by buying a license.
Ready for modern macOS and Apple Silicon
BBEdit is a 64-bit application and runs on macOS Catalina and later. (BBEdit has been a 64-bit application since the 12.1 release in early 2018.) Complete OS compatibility information is available here.
BBEdit versions 13.5 and later are native on Apple Silicon.
TextWrangler does not run at all on macOS 10.15 (Catalina) or later, and is not compatible with macOS 10.13 (High Sierra) or later.
A better free alternative
BBEdit offers a 30-day evaluation period, during which its full feature set is available. At the end of the evaluation period, you can continue to use BBEdit for free, forever, with no nag screens or unsolicited interruptions.
In "free mode", BBEdit provides a modified set of features, which incorporates all of TextWrangler's features, and offers unique features of its own. In the best tradition of TextWrangler, using BBEdit in free mode costs you nothing, while providing an upgrade path to advanced features and capabilities.
We've put together a handy chart comparing BBEdit and TextWrangler, to help you out.
Please see our Q&A about switching to BBEdit from TextWrangler.
How do I get BBEdit?
Download BBEdit here. (BBEdit is only available as an electronic download. Its license agreement is available here.)
If you already have BBEdit and would like to update to the latest version, please go to our updates page.
You can also get BBEdit from the Mac App Store. You can read more about BBEdit in the Mac App Store here.