BBEdit Product Tour
Exercise Total Control Over Text | Work Your Way | Command Files, Folders, Disks, and Servers | Enjoy Textual Omnipotence | Live Up To Standards | Integrate Smoothly Into Existing Workflows
Enjoy Textual Omnipotence
tell at a glance what's going on with customizable syntax coloring for over 20 languages and display of invisible characters, tab stops and current line highlighting
navigate within your documents easily with the Function Popup, custom place markers, and support for exuberant ctags indexing
see the structure of your code using automatic indent, line numbering and code folding
easily navigate among multiple documents in a single window
document and selection statistics (character, word and line count) shown at the bottom of every window
BBEdit makes it easy to navigate through even the most complicated code, with automatic function detection, code folding, optional line and cursor position display, function menu, syntax coloring, invisible character display, and more.
BBEdit features a visual Page Guide (the darker area on the right side of the window), tab stop indicators (vertical lines) and current line highlighting (the line with the insertion point is highlighted with the color of your choice; here it's gray).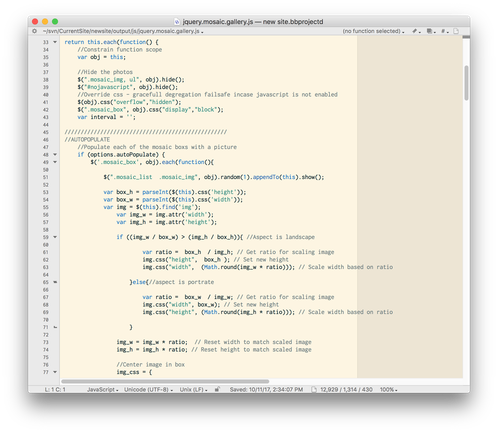 (click the image above to see it full size in a new browser window)
Multiple document display and navigation ( top )
Collect and organize all HTML source files for a particular Web site task or all the source files for a programming or scripting job into a single window. Reduce screen clutter by consolidating many documents into a few windows.
You can also organize all related files into Projects, and save the Project file for reuse. Projects can even include files opened via FTP/SFTP.
Every editing window provides a user interface for opening multiple text documents into a single window, and then switching between them quickly and easily (by clicking on a document in the list, using a keyboard command, or using the controls in the Navigation Bar). You can drag text files in to a window's file list, or between the file lists of two different windows.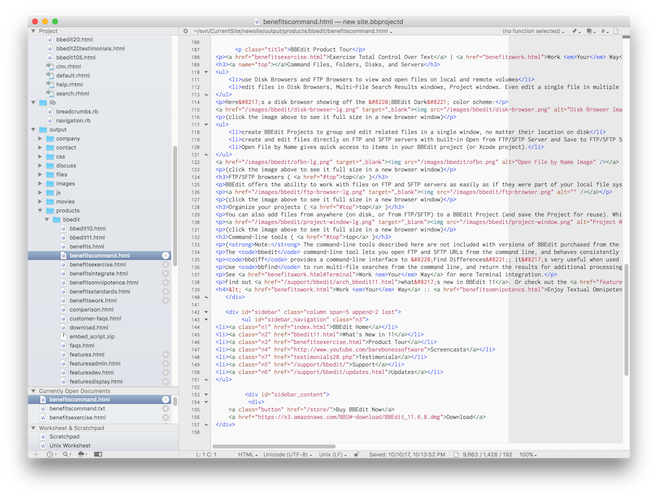 (click the image above to see it full size in a new browser window)
Universal Ctags Support ( top )
Universal Ctags is a powerful tool for indexing and navigating source code written in C, C++, JavaScript and many other languages. BBEdit integrates with Universal Ctags by automatically locating Ctags index files and providing easy access to indexed symbols by means of contextual menus and the "Find Definition" command.
Universal Ctags support makes it very easy to get around in your source code without leaving the comfortable and productive BBEdit environment.
Find out what's new in BBEdit 13. Or check out the full feature list.