License Code alert in Mac App Store versions
If you are using BBEdit 12.6 or later on macOS 10.14 or later, you may get an alert like this when starting BBEdit, or when choosing the "License" command:
If you see this alert, it's because you previously purchased a perpetual license from us for the current major version of BBEdit, but have since installed and begun using the same major version of BBEdit from the Mac App Store.
However, this can also happen if you have ever purchased BBEdit from the Mac App Store. In this case, the app store remembers that you previously purchased BBEdit there, and then will forever replace your installed version any time you install updates via the App Store — even if you were already using a copy of the app downloaded directly from our web site.
Because you have a license code, you have access to the full feature set of BBEdit, but you must download, install, and use the version of BBEdit provided directly on our web site.
The Mac App Store version of BBEdit does not recognize or use perpetual license codes, and so you cannot use your license code with Mac App Store versions of BBEdit.
To correct this condition, please open the App Store app, and (if necessary) sign into your Apple account.
Then, click on your account name in the lower left corner of the App Store window.
In the "Purchased" listing, locate BBEdit's entry and click on the "…" button. This will open a menu which contains a "Hide Purchase" command.
Choose the "Hide Purchase" command, and confirm the prompt by clicking the "Hide Purchase" button.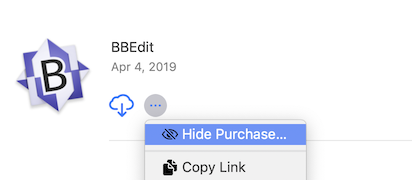 Finally, go to the BBEdit Downloads page and download the latest version of BBEdit. Then, install the BBEdit application from the downloaded disk image (making sure to replace the existing App Store copy), and start it as usual.
If you have any questions regarding this issue, please see our FAQ for Mac App Store customers, and feel free to contact us if any questions remain.
fin