Yojimbo
Your effortless, reliable information organizer for Mac OS X
Yojimbo makes keeping all the small (or even large) bits of information that pour in every day organized and accessible. It's so simple, there is no learning curve. Yojimbo's mechanism for collecting, storing and finding information is so natural and effortless, it will change your life, without changing the way you work.
Watch an introductory movie
Take a tour of Yojimbo
Try the demo now!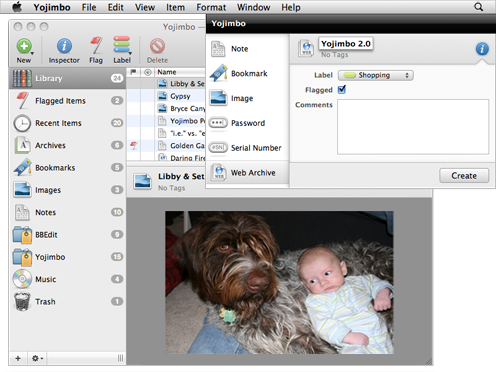 There are as many uses for Yojimbo as there are users of it. It accepts almost anything — text, bookmarks, PDF files, web archives, serial numbers, passwords, or images — by dragging, copying, importing or even printing. You can get anything out of Yojimbo you put into it, too, in its original form. There's no lock-in, export any time.
Yojimbo highlights
Effortless to install, learn and use
"Low friction" data collecting — stash information without disrupting your workflow
Store almost anything in Yojimbo — text, images, PDFs, even serial numbers and passwords
Organize your information with tags, labels, and collections, or just rely on Yojimbo's searching and browsing features
Your data everywhere — sync data from your Mac to an iPad, or export a copy of your data for your mobile devices
Instant Spotlight search of all Yojimbo content
Reliable and secure, it's built using core Mac OS X technologies
How do I get Yojimbo?
To purchase new or additional copies of Yojimbo, visit our online store. Yojimbo is only available as an electronic download.
How much does Yojimbo cost?
There are three licenses for Yojimbo:
| License | Price | Multiple Users? | Multiple Computers? |
| --- | --- | --- | --- |
| Individual | US$38.99 | No | Yes |
| Family | US$69 | Up to 5, single household | Yes |
| Educational | US$29 | No | Yes |
Individual license is for a single user on multiple computers.
Family license is for up to five individual users in a single household.
Educational license is for a single academic user on multiple computers.
(Student, faculty, or staff of an accredited educational institution (K-12 and higher ed.))
I already own an earlier version of Yojimbo. How much is an upgrade?
Registered customers with Yojimbo 1.0 to 1.5.2 may upgrade to Yojimbo 3 for just US$20. (This price is the same for Individual, Family or Educational licenses.)
(All registered Yojimbo 2 customers have been sent free upgrades to Yojimbo 3.)
System Requirements
Mac OS X 10.6 or later (10.6.8, 10.7.5, 10.8.3 or later recommended)